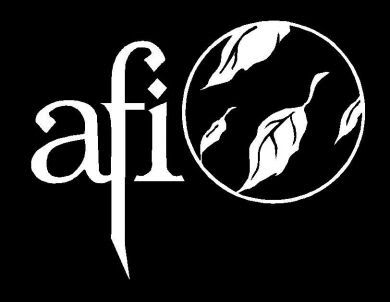 AFI (A Fire Inside) is a band from Ukiah, California formed in 1991. They have gone through numerous lineup changes but the band currently consists of Davey Havok on vocals, Jade Puget on guitar, bassist Hunter Burgan, and drummer Adam Carson. They have released 8 studio albums, 10 EPs, a live album, a DVD and various compilation albums. They were first signed to Nitro Records (owned by Dexter Holland of The Offspring) until 2002 when their major label debut, Sing The Sorrow was released which reached the Billboard top 10 and went platinum and gained the band mainstream success. This would continue on with their next album Decemberunderground and Crash Love, their latest album.Davey Havok also recorded an album with members of the Danzig and Sam Hain as the sideproject Son of Sam the album Songs From the Earth in 2001, they later released a second album entitled Into The Night with another lead singer (Ian Thorne). Davey Havok and Jade Puget also have an electronic sideproject entitled Blakq Audio who released their debut album, Cexcells in 2009. AFI started out as a pretty straightforward hardcore band for their early releases, when the albums Black Sails in The Sunset and the Art of Drowning were released, it signified an extreme change in music and lyrical themes. The music was more melodic and at times, very mellow and lyrically it became more complex. In reference to Black Sails in the Sunset
Decoy Music
reviewer Aaron Yarborough praised
Davey Havok
's lyrical contribution to the album, commending his efforts to "find himself," saying "the way he expresses how he feels is pure poetry." I feel that Sing The Sorrow is their masterpiece. it contains more elaborate production, thanks to the production skills of Butch Vig. It also has things like keyboards, strings and even industrial sounds which the band hasn't used before. It appeared on many major publication's ten best list for the year.
Early AFI had a driving force that I know most hardcore bands have/had and although some of their songs are 'silly' ie I Wanna Mohawk but if one really listens to the bulk of it, they really have something important to say. Loyalty is such a huge part of what afi stands for and I think that sometimes that gets overlooked. There are so many sides to them. Melodic, hardcore, poetic, horror punk, gothic punk, rock, etc.. their songs are so diverse and it's very different than most bands out there. There are several themes running through their music, one major one is the feeling of being an outcast. It is not being shown as a negative thing though, they want to include you in on it, and sort of form a bond between them and you, the listener. In many of their songs they use "we" or "us" instead of I for example... Lastly, I wanted to say this is not a full representation of their entire work as a band. Instead of picking out individual songs I would listen to their complete albums to really get a full picture about what they are about. It was extremely hard to come up with a top 20 for this band, I did get some outside help so thank you Gigi Chiong for helping me come up with this list. I did not include every song suggested but I think this list is pretty comprehensive for beginners and to get a feel of what the band is all about. I didn't include certain obvious singles like Girl's Not Grey or Miss Murder. I do love those songs but I truly wanted to go a little deeper into their catalog than just their "hits". Anyways, I have rambled on too long. Onward with the list, in no particular order we begin with....
#20 100 words from the deluxe edition of Crash Love (2009)
A song originally recorded for Sing The Sorrow but later released on the deluxe edition of Crash Love. This song gives me chills. It touches on some themes which were explored through Sing the Sorrow, including that feeling of not truly fitting in. I especially love the line "see how I blend with nothing", it is just so moving.
#19 Despair Faction from the album The Art of Drowning (2000)
This is also the name of AFI's fan club, this song seems to be about pergatory. It's a moving song and another example of some great guitar work. I especially like when the song gets quiet and you only hear Davey's voice say "My whole life is a dark room...one..big..dark...room" which was taken from the movie Beetlejuice.
#18 Too Late For Gods from the album Crash Love deluxe edition (2009)
Davey has said this song is about the concept of corporal deities. I think it also has to do with martyrs. dying for a cause of sorts, or perhaps like many of the themes touched upon on Crash Love,it could be about a celebrity and their fall from grace due to drugs or destructive behavior. The lyrics are gorgeous and it's a shame it didn't make it to the album and appears on the deluxe edition.
#17 Morningstar from the album The Art of Drowning (2000)
Lucifer's last name though this song isn't about Satan. I think this song could be seen as a reference to being rejected, much like in the book Paradise Lost. It talks about being remembered when you are on stage and whether you are just a ghost upon the stage or the star beneath the stage. Powerful song and it also ties into Days of The Phoenix with it's line about the ghost on the stage.
#16 Triple Zero from the album Shut Your Mouth and Open Your Eyes (1997)
Shut Your Mouth and Open Your Eyes is honestly not an album I hear too often. That does not deny the beauty of this song. I feel that later on, they became much better lyrically. I do love these lyrics though "Some sedate through indifference but I withheld zero tolerance." This sounds like it's about AFI and their straight edge philosophy. Short, really punkish song about embracing who you are and about hatred for those who hurt him. A nice intro to their early work.
#15 He Who Laughs Last from the album Very Proud of Ya (1996)
It's interesting to go through all the songs and to see the evolution AFI have gone through as artists, as lyricists and and as people. I just saw this video for the song where the band have Davey trapped inside a trunk of a car and how lowbudget it is. A more innocent time. The lyrics are pretty straightforward which you will probably never see from an AFI song these days. A bad relationship where a person has broken your trust so much you can only trust yourself, a universal message for the ages. A fun, fastpaced song which always make me smile. AFI have really grown up since then. The video for the song contrasts the video for Silver and Cold. In this video the band kills Davey, in the Silver and Cold video Davey kills the rest of the band. Very interesting stuff.
#14 Porphyria Cutanea Tarda from the album Black Sails In The Sunset (1999)
Porphyria is a type of skin disease where a person can basically only be out at night. A really poetic fastpaced song. I think it's about a group of misfits or punk who only come out at night, the darkness which brings them together. "In darkness together we're bringing the light.In darkness together we are forming.The fire tomorrow is born of the night,in darkness together we ignite." Like many AFI songs its about outcasts or society's misfits finding solace in darkness, but still finding happiness in that.
#13 God Called In Sick Today from the album Black Sails In The Sunset (1999)
Darkness of the world, terrible things happening, it's almost like god called in sick today. Love Davey's vocal delivery in this. It goes from extremely mellow to loud and raw. Incredible!
#12 Torch Song from the album Crash Love (2009)
This is from their latest album, Crash Love. The song seems to be about obsession. During the song, he keeps saying all the things he would do for this person, but in the end the lyric says "Leave me. Leave me to grieve that nothing's lost.Leave me, but when you leave, know nothing's lost." This makes me think that he realizes that it was just obsession and not love, and he's ok without the other person. Extremely catchy chorus and great production on this track.
#11 Miseria Cantare from the album Sing The Sorrow (2003)
An amazing intro to the Sing The Sorrow album. Miseria Cantare is Italian for Sing The Sorrow. The intro gives the listener the impression that this is a very different band than they previously thought. It serves as a calling to the fans. You are now one of us. "Radiate, recognize one silent call As we all form one dark flame" This song is saying we all come together as one, even though we are outcasts to the outside world. Many AFI songs revolve around that theme. Truly memorable.
#10 37mm from the album Decemberunderground (2006)
One of the songs I constantly go back to from the epic Decemberunderground. This is a nice play on words as far as the song title goes. AFI has this constant theme with numerology especially with the numbers 3 and 7 on Decemberunderground, turn the mm sideways, it turns into 2 #3s. 37mm could be referencing a gun or a camera (37mm lens?) The lyrics speak of healing and wounds. I think it's about taking anothers sins, feeling what they're feeling. I'm not sure it is religious but it could be.
#09 Death of Seasons from the album Sing The Sorrow (2003)
Chills. This is all I can say about this song. There are so many layers to it. It starts off as a hardrocking song with screaming, then it turns a bit dancy for a few seconds, then back to hard rock, with a mellow ending. It's always been a favorite and one of the highlights on Sing The Sorrow. I personally thing this song is about a person fed up with society, or perhaps an apocalyptic vision of the endtimes. A great song, and as usual, wonderful lyrics.
#08 Malleus Maleficarum from the album Black Sails In The Sunset (1999)
Malleus Maleficarum was an old book that was used to determine whether someone was a witch back in the Salem Witch Hunts. AFI really likes bringing these obscure references into their songs. I think the song is about taking pride in your own individuality and never living your life by anyone else's rules. "..and with growing pride i'll wear my scars.."
This is one of the greatest lyrics ever and truly represents this song and AFI.
#07 The Boy Who Destroyed the World from the All Hallows EP (1999)
It's crazy how many songs on this list don't appear on AFI's studio albums. It goes to show how many great songs they have. This song has always been an anthem to me. A great, fastpaced short song that is painfully sad as well. It deals with the loss of innocence, about a boy growing up and dealing with all the pain associated with growing up. Lyrically so powerful. I especially love the line "They said it hurt their eyes, but he would never know that they were claiming regret as their own...as their own dissipated."
#06 Totalimmortal from the All Hallows EP (1999)
A song covered by The Offspring. This is a song that has always spoken to me. It reminds me of a really bad day, this song can bring you out of that and really give you strength. Music should always be this good.
#05 Silver and Cold from the album Sing The Sorrow (2003)
Another great favorite of mine. A beautiful piano intro, leading into random beats, into the guitar and song. A perfect balance. Lyrically the song talks about taking someone else's sins, it reminds me a bit of Kate Bush's Running Up That Hill, in that it talks about feeling what another person feels. Maybe I'm alone in seeing that comparison, The song also starts with rain sounds, which people associate with gloominess but also helps trees and plants grows and helps create life. Also, it might be about someone who is a "sinner" finding a likeminded individual. I love that AFI makes their songs open to interpretation and makes it somewhat vague so you can attach your own meaning into them.
#04 Now The World from the deluxe edition of Sing The Sorrow (2003)
This has always been a song I keep going back to, year after year. A song that always brings tears. A person created a scene, an atmosphere for beautiful in the beginning for this person who needed some sort of escape, but this person rejected him. He tries to go back to that summer of innocence and love but it's all faded and torn. a heartbreaking song and lyrically one of the best ever. Davey Havok is a true poet and this song is one of the main reasons why I feelt that way. The reference to seasons and summer are really something.
#03 ...but home is nowhere from the album Sing The Sorrow (2003)
I've written about this song in this blog previously. Such a fitting end to an amazing album. It reminds me of a terrible time in life where you think you cannot escape it and the feelings that come with it. For more about this song, click here to view my previous blog entry about this song.
#02 The Leaving Song Part II from the album Sing The Sorrow (2003)
The second single from Sing The Sorrow and one of my personal anthems. There is also a Leaving Song part 1 on the album which appears later. "Look what I've built, it shines so beautifully
Now watch as it destroys me" This song has an amazing prechorus and a few spanish lyrics. The line I quoted is especially important to me. I think it's about talking about the person you used to be and trying to destroy it before it consumes you. This song is so intense, I love the live versions I have heard of it. Such energy, passion. i believe Jade wrote this one. "Yo he estado aqui muchos veces antes y regreso"... this translates to "I have been here many times and come back"... there are a few AFI songs that have to do with reincarnation too, and the same themes with rabbits and the number 3. I think I read somewhere that Davey Havok's Chinese zodiac sign is the rabbit and it can't be reincarnated or something like that. Very cool song and one to get you pumped, ready to face anything.
and the #1 song is....
#01 Days of the Phoenix from the album The Art of Drowning (2000)
This song is about the Phoenix Theater in California. AFI used to play a bunch of shows here early on in their career, at one point early on, they were thinking of breaking up, after playing at the Phoenix theater, they decided to carry on. That is what the song represents to me, carrying on. Fighting back and never backing down. A powerful anthem and song.
We end with some songs that didn't make the final cut but are still extremely relevant:
We've Got The Knife
Kiss and Control
Midnight Sun
Rabbits are Roadkill on Route 37
Sacrifice Theory
Synesthesia
File 13
It Was Mine
Reivers' Music
Wester
and of course some great cover songs AFI have done throughout the years:
Head Like A Hole (NIN cover)
Don't Change (INXS cover)
The Hanging Garden (The Cure cover)
Jack The Ripper (Morrissey cover)
Demonomania (Misfits cover)
Ziggy Stardust (David Bowie cover)