David Bowie is, aside from The Beatles, and Velvet Underground, the most influencial artist of all time. His work, (especially in his heyday in the 70s still stands today as one of the most amazing timeframes of any artist. The rankings only reflect my personal opinion of every album. I think they're all great, and I listened to every one of them and enjoy them. Just because I rank one above another means I dislike the lower one. I have so many memories attached to his music, I truly enjoy almost all of his work (yes, even his 80s output, though listening to Tonight requires LOTS of patience, I would only recommend that album to hardcore fans), I would only put The Cure, and REM up there as far as my personal faves. David Bowie has always been innovative, changing styles, changing themes and working with some incredible musicians throughout his career such as Robert Fripp, Brian Eno, Carlos Alomar, Rick Wakeman, Iggy Pop, Lou Reed, Nile Rodgers, Adrian Belew, Stevie Ray Vaughn, Luther Vandross, Gail Ann Dorsey, Reeves Gabrels, The Sales brothers, . No one album is like the rest and in the 70s he explored VERY different avenues, including glam rock, Krautrock, funk, you name it! He was one of the main influenced for punk, goth rock, new wave, electronic music. he helped bring ambient music into the mainstream. Very few come close to his influence. I'll be ranking these from low(lol!)est to highest. Let's start! There are several lists like this online, I'm not going by other people's opinion of these albums, just my personal take on them.
#10 Lodger (1979)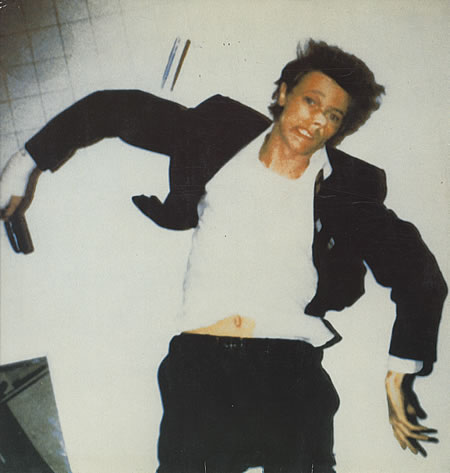 This album never fully grabbed me. It's part 3 of the infamous Berlin trilogy, along with Low and Heroes which we will get to soon. Lodger was the last album Bowie would record in the 70s, and end to that era if you will. After exploring all his different ideas with over 10 studio albums in the 70s alone, here Bowie seems bored. There is a distance in the songs, an escapism, it's a distant record that is a tad hard to relate to. He even rehashed some old ideas.. Red Money is the same song as Sister Midnight, which was on Iggy Pop's Lust for Life album, which they both recorded together.. Some songs you might recognize are Boys Keep Swinging, which Bowie famously played on SNL along with Klaus Nomi and Joey Arias, and Look Back In Anger which has guitarist Carlos Alomar seriously shredding.
Boys Keep Swinging:
Look Back In Anger:
#9 Young Americans (1975)
Bowie's soul album. After recording Diamond Dogs (which does have hints of soul at times) this was Bowie trying another persona, white soul boy. This album features backing vocals from future superstar Luthor Vandross and features a memorable appearance by the legendary John Lennon on the hit song Fame. It's Bowie putting on nother disguise. he does a mediocre cover of the Beatles Across the Universe and the title track is one I usually skip, Way too many saxophones in here and it sounds conformist and not as edgy as his previous and later albums. Still, a great effort and still better than most other music out there. Not an album I revisit often but still a decent record.
Fame:
Young Americans:
#8 Heroes (1977)
Sidenote. I feel that most Bowie album sound better on vinyl, aside from Heroes and Aladdin Sane, I own all his 70s albums on vinyl. This and Low has all instrumental tracks on the 2nd side. It works well. Heroes, aside from the amazing title track, which talks of a couple meeting at the Berlin Wall despite the violence and separation between East and west Berlin is one of the most romantic songs ever. The album doesn't quite grab me like the rest. I don't listen to it much. I do like Robert Fripp's guitar work here and the song Moss Garden is a true work of art. It's an instrumental piece featuring a koto, which is a Japanese string instrument. I would also mention this, along with Low and Lodger were part of what is called the "Berlin" trilogy... albums Bowie recorded with Brian Eno, while going to Berlin to kick his drug habit...though Lodger was mainly recorded in Switzerland.
Heroes:
Moss Garden:
#7 Aladdin Sane (1

973)
Released after Ziggy Stardust, this was Bowie's first album as an actual rock star. The title of this record was a pun of the words, a lad insane, which was inspired by David Bowie's brother, Terry, who was schizophrenic. This record has to do with travelling and Bowie's duality of mind, represented by the lightning bolt on the cover. He said it had to do with the conflict of being up on stage and at the same time, not wanting to be on the buses surrounded by strange people. A very interesting record, less disjointed than Man Who Sold The World, yet more rocking than Hunky Dory. It's an ode to fame, with songs like Watch That Man, yet a warning of it's pitfalls, such as in Jean Genie, inspired by his friend, and sometimes recording partner, Iggy Pop. Some of my favorites include Time, with it's awesome keyboard, and of course, A great album in parts, but the parts are greater than the whole. A good album, but at times the production is a bit off, vocals are buried in the mix in certain songs. Still, interesting ideas and concept.
Jean Genie:
Time:
#6 The Man Who Sold The World (1970)
Released in 1970, this album kicked off the 70s for David Bowie and was the first album to featur the future Spiders From Mars. This featured Mick Ronson on guitar for the first time. What I love about this album is the constant change in themes. This is when Bowie was heavily influenced by literary authors such as Nietzsche, Kafka, and Crowley. Songs about supermen, computers and his brother's mental illness are all on this record. On a personal note this was the first Bowie album that truly spoke to me. All The Madmen was always one of my favorite songs, it's about celebrating insanity as a way of uniqueness, I love that concept. The title track was famously covered by Nirvana, and while I like Nirvana's version, Bowie's version feels cold, distant. This whole album is rather dark and scifi like. The song After All is a sorta lullaby to all the adult children out there, the hippies, the disconnected ones. Brilliant, with echoes of heavy metal, coutesy of guitarist Mick Ronson. The Supermen is another great song about this race of superhumans who existed before time, possible inspired by H.P. Lovecraft or Nietzsche. There is an otherworldy feel to this record, sorta goth-like at times. Not one of Bowie's bestsellers, but an album I constantly go back to.
The Man Who Sold The World:
All The Madmen:
#5 Diamond Dogs (1974)
Released after Aladdin Sane, this has been said to be the end of Bowie's glam rock phase. With this album, Bowie disbanded the Spiders from Mars and decided to play guitar himself. This was meant to be a concept album based of George Orwell's novel 1984, but Bowie was not granted permission, but still there are songs referencing it, such as 1984, and Big Brother. This album is what I would call apocalyptic disco. There are hints of his future soul work, mixed with glam rock. Really interesting stuff. His most popular song here is Rebel Rebel, with it's Rolling Stones like riff, and of course the title track. This album was the first to employ the cut-up method, popularized by William S. Burroughs and used on the song Sweet Thing. A very scary record, full of visual imagery that requires several listens to really understand the concept and story. Brilliant record.
1984:
Rebel Rebel:
#4 Station to Station (1976)
What I find most hilarious about this is that David Bowie has no recollection of recording this! This was released in 1987, right before his Berlin trilogy and right after the soulfull Young Americans. Bowie was heavily into drugs, especially cocaine, and like Man Who Sold The World, the lyrics are heavily influenced by Nietzsche, Crowley, mythology, and religion. At times, a very numb album, and at times very funky and discolike. This album was the ultimate contridiction. If I had any complaints, I wish they has recorded more songs. This only has 6 songs, but what amazing songs. I did a previous list of best bowie songs and the title track was near the top. So epic at over 10 minutes long, full of religious imagery, more Crowley references (white stains), and Kaballah influences. It's all over the place but very cynical. Also on the album is the song Golden Years, which Bowie played on Soul Train where he was drugged out of his mind! This whole period of his life was very dark as Bowie himself admitted. But what great songs. Golden Years is about the limelight, etc.. Word on A Wing is another song about religion, guilt, prayer, redemption. All his years experimenting with different genres, looks, etc.. really pay off here. I also like his cover of Wild Is the Wind, it fits really well on this album.
Station to Station:
Golden Years:
#3 Low (1977)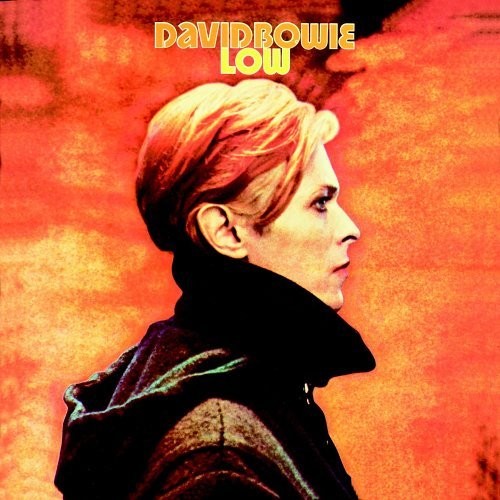 The first part of the Berlin trilogy and one of my favorites, This was right after the drug filled highs of Station to Station. This album was about Bowie getting off drugs, recording this in Berlin with Brian Eno. After all the chaos his life had become, Low was the perfect soundtrack to sobriety. Very minimal lyrics on the first side and all instrumental songs on the second. Perfect for relaxing and thinking. The first side drives hope that point of getting off drugs and features songs about boredom and depression, but still there is hope. Side two is full of soft synths that make you feel that hope. The album is full of broken shards of songs. This record has to be the most influential Bowie record. His vocal delivery is a tad lower than other albums. He doesn't quite rach those high notes often here. This was recorded at the same time that Bowie was producing Iggy Pop's albums The Idiot and Lust for Life, which he also helped cowrite some songs. Iggy Pop does backing vocals on this album's What the world. These are not traditional songs and to be honest it took me a while to really see it's beauty. It emphasizes mood and feeling over traditional songs and structures. It a bold record and one of my all time favorites. Always Crashing in the Same Car is full of reckless abandon and Be My Wife was Bowie's plea to save his failing marriage. Always emotional, bleak, and hopeful. one of the best.
Be My Wife:
Sound and Vision:
Always Crashing in the Same Car:
#2 The Rise and Fall of Ziggy Stardust and the Spiders From Mars (1972)
Bowie's rock star album. His most popular from the 70s. This was a rock opera that doesn't sound like one. The songs flow together in a way that doesn't feel trite or cobbled together. This is Bowie's finest hour. Released in 1972, right after Hunky Dory, this is about Bowie the space alien, coming to earth and his ultimate demise. Five Years tells of the coming end times. a warning to the future, and starman has one of the most infectious choruses ever. The title track is one of the most popular David Bowie songs and with reason. That opening riff, the weird, surreal lyrics, everything about it is perfection. His tribute to Mark Bolan of T. Rex entitled Lady Stardust is very sentimental and a fitting tribute. What really stands out here is the vocals. Bowie has never sounded better, especially when reaching those desperate notes in the closer Rock N Roll Suicide. The one strange thing about the album is how well it flows together, as opposed to other Bowie albums which explore many different genres and avenues. It is perhaps his most cohesive sounding album. This album made Bowie a household name and a true superstar for years to come. Look for the version which contains two bonus tracks, Velvet Goldmine and Sweet Head. two superb songs that should have been on this album.
Starman:
Ziggy Stardust:
Rock N Roll Suicide:
#1 Hunky Dory (1971)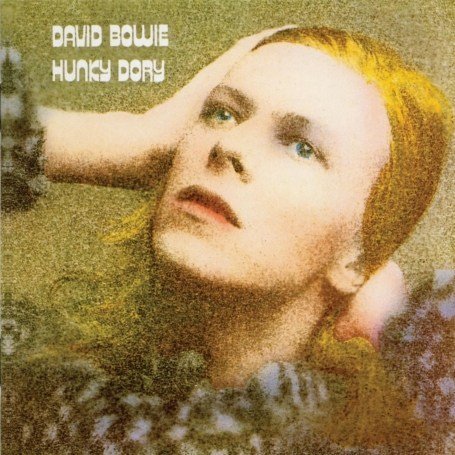 This album is essential to any collection. not just a David Bowie one. This was released right before Ziggy Stardust and right after The Man Who Sold the World. It's that nice sweet spot in between. Not quite as rocking as either, this has many folk elements and touches of piano thrown in. Bowie continues his Crowley and Nietzsche obsession with the song Quicksand, which talks about the golden dawn and the concept of superman. Why I ranked this at #1 is the song Life On Mars. Bowie's best song. Soft piano, Bowie's trademark surreal imagery about lawmen beating up the wrong guy, etc... Many tributes run throughout this album. The songs Andy Warhol, Song for Bob Dylan...Queen Bitch is a tribute to the rock and roll of The Velvet Underground. and the song Bewlay Brothers is a fitting tribute to his older schizophrenic brother Terry, who Bowie would later write about in other songs. I really love the chanted lyrics in this song and weird effects on Bowie's voice. Changes is the most wellknown song on here, about growing up and changing, as well as Oh! You pretty things. Kooks is one of my personal favorites, an anthem for all the weirdos. so many great songs, a mixture of his early folk and the rock that was to come. A beautiful album cover. Just perfection at every turn. If you heard Ziggy and didn't care for it, go listen to Hunky Dory.
Changes:
Oh! You Pretty Things:
Life on Mars: