Coachella is an annual music festival held in Indio, California which brings together bands of all genres to one place. Previous headliners have included Nine Inch Nails, Morrissey, Love and Rockets, Siouxsie and the Banshees, The Cure, and Rage Against the Machine. This year's lineup featured an array of bands from new wave, to punk, to hiphop, to EDM, to indie rock, and so on. Here are some of the best sets this year. I will add more as I find them.
Social Distortion
Social D brings their familiar sound to the Indio stage. They started the set with their 1996 radio single, I Was Wrong and closed the set with their classic cover of Johnny Cash's Ring of Fire. They even played a song (Machine Gun Blues) off their most recent album, 2011's Fast Times and Nursery Rhymes. Here is the setlist:
1. "I Was Wrong"
2. "Reach for the Sky"
3. "Gimme the Sweet and Lowdown"
4. "Story of My Life"
5. "Machine Gun Blues"
6. "Mommy's Little Monster"
7. "California (Hustle and Flow)"
8. "Highway 101″
9. "Ring of Fire"
Nick Cave and The Bad Seeds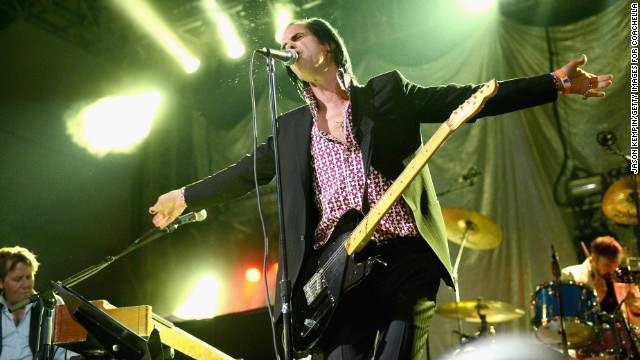 Nick Cave was doing double duty at Coachella, with his other band, Grinderman doing a set on Saturday. He performed a few songs off his most recent album, Push the Sky Away, along with old favorites such as Stagger Lee, and from Her To Eternity. Here is the complete setlist and complete video:
1. "Jubilee Street"
2. "From Her to Eternity"
3. "Red Right Hand"
4. "Deanna"
5. "Jack the Ripper"
6. "Stagger Lee"
7. "The Mercy Seat"
8. "Push the Sky Away"
Violent Femmes
The 1980s were huge for alternative music, and you could not avoid the classic Violent Femmes hit, Blister in the Sun. That song was off their 1983 debut selftitled album. The Violent Femmes have not played in over 5 years, but reunited at Coachella where they played their entire debut album in its entirety. Check out the setlist and video here:
1. "Blister in the Sun"
2. "Kiss Off"
3. "Please Do Not Go"
4. "Add It Up"
5. "Confessions"
6. "Prove My Love"
7. "Promise"
8. "To the Kill"
9. "Gone Daddy Gone"
20. "Good Feeling"
21. "Gimme the Car"
22. "I Held Her in My Arms"
23. "American Music"
New Order
The band played an amazing set. I could not find a complete video but I did find 2 songclips of opener, Crystal, and their most amazing song, The Perfect Kiss
Crystal:
The Perfect Kiss:
Johnny Marr
There were rumors of there finally being a Smiths reunion at Coachella, sadly it was not to be, but Smiths guitarist Johnny Marr did a set promoting his new album and did a cover of the Smiths classic, There is A Light That Never Goes Out and also performing the Jam classic with singer Paul Weller, Town Called Malice.
There Is A Light That Never Goes Out:
Johhny Marr with Paul Weller (The Jam) - Town Called Malice