The Coachella Music and Arts Festival is an annual 3-day music festival held in Indio, California. It competes with Lollapalloza, Pitchfork, and many other music festivals. It plays host to mostly indie rock bands but has also had genres such as hiphop, pop, punk rock, metal, among others. Bands who have played at Coachella include Iggy and the Stooges, Tool. Rage Against the Machine, Bjork, The Arcade Fire, Love and Rockets, The Cure, Prince, Bauhaus, Nine Inch Nails, Red Hot Chili Peppers, Siouxsie and the Banshees, Janes Addiction, among many others. This year's lineup was subpar in my opinion, though here are some highlights from this year, which saw many bands reunite for the first time in years.
The Buzzcocks are an English punk band formed by Pete Shelly and Howard Devoto (later of the postpunk band Magazine). They were one of the innovators of "pop-punk" and would later influence punk bands in years to come, including every band on Lookout Records, Green Day, and basically every punk band who had a pop edge. They are also one of the most influencial bands to come out of the Manchester music scene (which would later include bands like Joy Division, New Order, The Happy Mondays, The Smiths, Stone Roses, etc..) Smiths drummer Mike Joyce joined the band and played drums for them in 1990-1991. Their songs are infectious, catchy and lyrically brilliant. Some of their best known songs are What Do I Get, Harmony in My Head, Everybody's Happy Nowadays, Ever Fallen In Love, Orgasm Addict..etc.. Most can be found on the Singles Going Steady collection. Another one of my personal favorites is I Believe, which is also one of their longest songs. Here is the band playing it live at this year's Coachella.
The Buzzcocks - I Believe
Florence and the Machine
Florence and the Machine is one of the few new bands worth talking about. Their music is moving, catchy, passionate, and warm. Florence Welsh has one of the best voices in music today. I previously mentioned their Unplugged performance, where you really see them shine. They only have 2 albums to their name, but expect this band to be around for a while. Florence is one of those rare female singers who has a presence, a strong voice. I can see a lot of influence from people such as Kate Bush, Siouxsie Sioux, and Bjork in Florence. That is great company to be in. This was one of highlights of Coachella this year. Check out Cosmic Love.
Florence and the Machine - Cosmic Love
James
James is another great band to come out of the Manchester music scene. They formed in the early 1980s, but did not achieve success until the 90s with their album Laid. They have toured with such notable artists as The Smiths and Neil Young. Brian Eno even produced a few albums with them. Morrissey even called them one of the best bands in the world back in 1983 and he covered their song What's the World. Here is James with their only hit in the US, Laid.
James - Laid
Refused
One of the great reunions of this year's Coachella. Refused are a hardcore punk band from Sweden who achieved success with their 1998 album, The Shape of Punk To Come, which would find an audience after the band broke up. It has been named one of the most influencial hardcore punk albums of all time. The album was a "punk" album but includes jazz interludes, and even techno sounds, It challenged what it punk rock was all about. That's why it's an important record. It's refreshing that these guys are back. Here is Refused with Liberation Frequency.
Refused - Liberation Frequency
At the Drive-In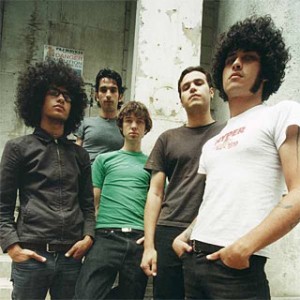 At The Drive-In are a post-hardcore band from Texas who reunited at Coachella for the first time in nearly 10 years. Formed in Texas, the band gained a following because of their intense live shows, surreal lyrics and unorthodox guitar melodies. They achieved success on their 2000 album, Relationship of Command. They were signed to Grand Royal Records, which was started by The Beastie Boys. Iggy Pop appears on 2 tracks on this album, and it was produced by Ross Robinson (who also produced Korn and The Cure). The album included hit singles such as One Armed Scissor and Pattern Against User. Soon after this album was released, the band broke up and morphed into The Mars Volta and Sparta. The band decided to get back together for this performance and a performance in Australia but no talks of recording new songs. Here is Pattern Against User.
At the Drive-In - Pattern Against User
Madness
One of the original ska bands, Madness is mostly known here in the US for their song Our House. They have tons of other singles and have been making music since the 70s. Other hit songs include One Step Beyond, Ghost Town and House of Fun. This is one of the most exciting bands at Coachella, and I love that they have these veterans on stage. They released their most recent album in 2009. Check out the clip of House of Fun.
Madness - House of Fun