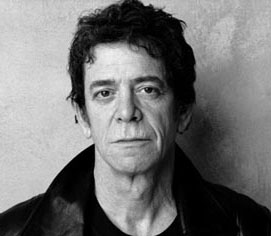 I was meaning to post this yesterday but here goes. Today is Lou Reed's birthday (March 2). A true legend from his work with the Velvet Underground to his current album, Lulu (with Metallica). Lou has always done his own thing, never caring or catering to the mainstream. Here is an old favorite with the Velvet Underground, Sunday Morning. The Velvet Underground never achieved mainstream success. I believe one of their albums made it all the way to #199 on the Billboard 200 once, but with their raw lyrics, feedback, and gift of good songs, they were legendary. Brian Eno famously said "
"Only five thousand people ever bought a Velvet Underground album, but every single one of them started a band.". You can hear their influence in every band from REM, Siouxsie and the Banshees, Kraftwerk, Nirvana, The Pixies, Roxy Music, My Bloody Valentine, and even David Bowie, who was a fan early on and later recorded Transformer with Lou Reed.
A solemn, fragile song which will always remind me of the dreadful week to come. Lou later went solo and had David Bowie produce one of his first recordings,
Transformer
in 1972. Here is a good example of one of his best known and beloved songs, Satellite of Love.
Lou followed Transformer with
Berlin
in 1973, a very raw album telling the stories about two junkies living in Berlin. Themes in this album include drug abuse, domestic abuse, adultery, and suicide. This is probably not a good intro to his work, and I would definitely recommend Transformer before this album, but here's a popular track off it called The Kids.
Lou released a few rock albums during this time, but was growing fed up with his label and mainstream success so he released
Metal Machine Music
in 1975, an album with no vocals and pure feedback, lasting well over an hour. Was it a joke? Was Lou taking this serious? Only he knows, but a very gutsy move on his part and a perfect example of a man who never took the easy path musically. Here is a selection from that album if you're curious.
This album would later prove influential to genres such as noise rock, and industrial. I still believe Lou Reed was trolling the entire music industry. Famed journalist Lester Bangs famously said. " "as classical music it adds nothing to a genre that may well be depleted. As rock 'n' roll it's interesting garage electronic rock 'n' roll. As a statement it's great, as a giant FUCK YOU it shows integrity—a sick, twisted, dunced-out, malevolent, perverted, psychopathic integrity, but integrity nevertheless."
In 1996, The Velvet Underground were inducted into the Rock and Roll Hall of Fame and famously reunited that year and toured with U2. Lou continues to record to this day, mostly releasing experimental albums and most famously collaborated with rock band Metallica to release last year's
Lulu
. The concept of the album was from the play also entitled Lulu from famed German playwright Frank Webekind. The album is mostly Lou Reed reciting spoken word over Metallica doing the music. Many have commented that this album should have never been made, it has already made several "worst album ever lists" and even Lou Reed himself has said he has received death threats from Metallica fans. Overall I think it's a pretty good album and just totally represents everything Lou is, unapologetic. One of my favorite songs is entitled Junior Dad.
Lou Reed is a legend. Never backing down and never comforming to any idea of popularity and keeping his integrity all along the way.